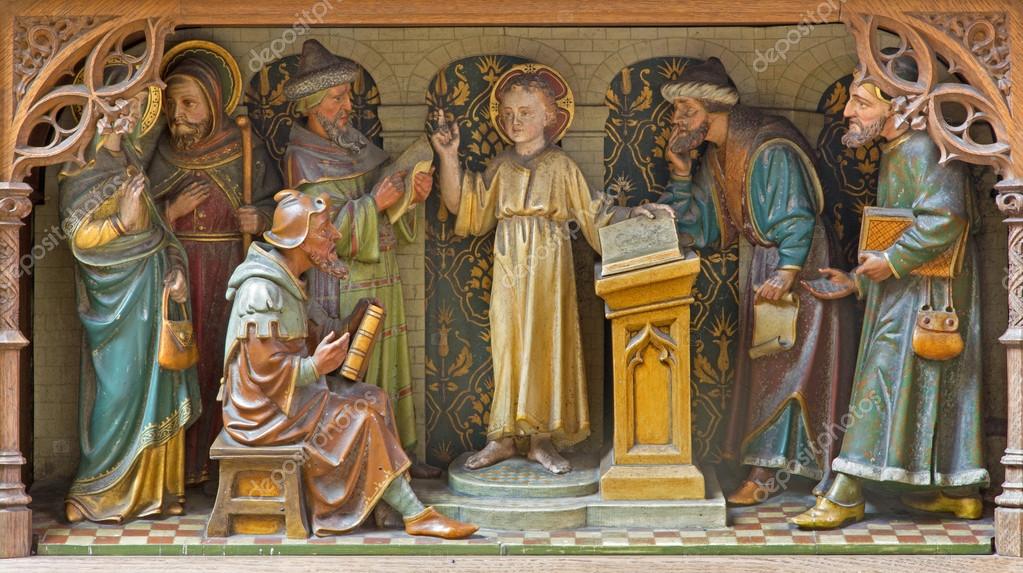 FIRST READING            1 Samuel 1:20-22, 24-28
In those days Hannah conceived, and at the end of her term bore a son whom she called Samuel, since she had asked the Lord for him.  The next time her husband Elkanah was going up with the rest of his household to offer the customary sacrifice to the Lord and to fulfill his vows, Hannah did not go, explaining to her husband, "Once the child is weaned, I will take him to appear before the Lord and to remain there forever; I will offer him as a perpetual nazirite."  Once Samuel was weaned, Hannah brought him up with her, along with a three-year-old bull, an ephah of flour, and a skin of wine, and presented him at the temple of the Lord in Shiloh.  After the boy's father had sacrificed the young bull, Hannah, his mother, approached Eli and said:  "Pardon, my lord!  As you live, my lord, I am the woman who stood near you here, praying to the Lord.  I prayed for this child, and the Lord granted my request.  Now I, in turn, give him to the Lord; as long as he lives, he shall be dedicated to the Lord."  Hannah left Samuel there.
SECOND READING                  1 John 3:1-2, 21-24
Beloved:  See what love the Father has bestowed on us that we may be called the children of God.  And so we are.  The reason the world does not know us is that it did not know him.  Beloved, we are God's children now; what we shall be has not yet been revealed.  We do know that when it is revealed we shall be like him, for we shall see him as he is.  Beloved, if our hearts do not condemn us, we have confidence in God and receive from him whatever we ask, because we keep his commandments and do what pleases him.  And his commandment is this:  we should believe in the name of his Son, Jesus Christ, and love one another just as he commanded us.  Those who keep his commandments remain in him, and he in them, and the way we know that he remains in us is from the Spirit he gave us.
GOSPEL                Luke 2:41-52
Each year Jesus' parents went to Jerusalem for the feast of Passover, and when he was twelve years old, they went up according to festival custom.  After they had completed its days, as they were returning, the boy Jesus remained behind in Jerusalem, but his parents did not know it.  Thinking that he was in the caravan, they journeyed for a day and looked for him among their relatives and acquaintances, but not finding him, they returned to Jerusalem to look for him.  After three days they found him in the temple, sitting in the midst of the teachers, listening to them and asking them questions, and all who heard him were astounded at his understanding and his answers.  When his parents saw him, they were astonished, and his mother said to him, "Son, why have you done this to us?  Your father and I have been looking for you with great anxiety."  And he said to them, "Why were you looking for me?  Did you not know that I must be in my Father's house?"  But they did not understand what he said to them.  He went down with them and came to Nazareth, and was obedient to them; and his mother kept all these things in her heart.  And Jesus advanced in wisdom and age and favor before God and man.
My sisters and brothers in Christ,
Jesus, Mary and Joseph are the Holy Family.  Family life, in general and under the best circumstances, is a challenge to understand, even for those members living within the family.  This Holy Family received messages from the Angel, experienced a virgin birth, left home and traveled to Egypt (and returned), responded to dreams, and was the custodian of the living God, Jesus.  What is striking about the Holy Family is how cohesive it was, each member understanding his or her role and giving their all to fulfill it.  They were all willing participants in God's divine plan.  All three were moved by trust in God the Father and to welcome the salvation of the world.
The First Book of Samuel gives us another most unusual family, that of Hannah, Elkanah, and Samuel.  How can we imagine a mother, who has longed for a child all her life, then giving that child away to the service of the temple?  Hannah is a protagonist in an exemplary story of faith.  Our modern cynicism and incredulity impede our receptiveness to such stories; but, they are given to us to show us how faith can impact our lives.  A true family, in the Scriptural sense, aspires to building the family relationships in faith for the building of the kingdom of God.
The second reading is from the 1st Letter of Saint John, and speaks about how we are all children of God, reminiscent of the Gospel passage where Jesus tells us that his mother and brothers are those who hear the Word of God and put it into practice.  In this sense we all belong to the Holy Family because we are brothers and sisters and mothers of the Lord Jesus.  It can humble us to think about ourselves in this way.  Can I really be Jesus' sister or brother?  In answering this question in the affirmative, we recognize that there are no perfect families because we are not perfect.   What moves us toward a perfect family is listening to Jesus, the Word, and striving to live it in our lives with faith and love.
Luke's Gospel today is the account of Jesus staying in Jerusalem and teaching in the temple when he was twelve years old.  His presence and speech were attempts at family building.  The scene would scandalize modern day parents.  In a security obsessed world where some children able to hold a cellphone are given one for 'checking in' with parents, we can imagine the anxiety of his parents when they discover he is not with them.  Yet Jesus does not apologize.  His sangfroid response reminds us who He is:  I must be about my Father's business.
For all of us this day, the deepest and most loving way of celebrating the Holy Family is to live as Jesus, Mary, and Joseph did:  doing the will of the Father with love.  Doing the will of God does not come without bumps in the road, some seemingly insurmountable.  Despite our weaknesses and failures as family members, let us with hope and joy strive ardently to be truly the Holy Family of Jesus here on earth.  After all, parenting can be a great source of joy and an expression of holiness.  Pope St. John Paul II loved skiing, theatre, and camping, especially with his youth groups, and showed the world that living holiness doesn't mean you can't have fun, too.  Let us celebrate the Holy Family and earthly families who enjoy one another, persevere through the bumps and love, laugh, and, ultimately, let go as family members follow the Lord's will.